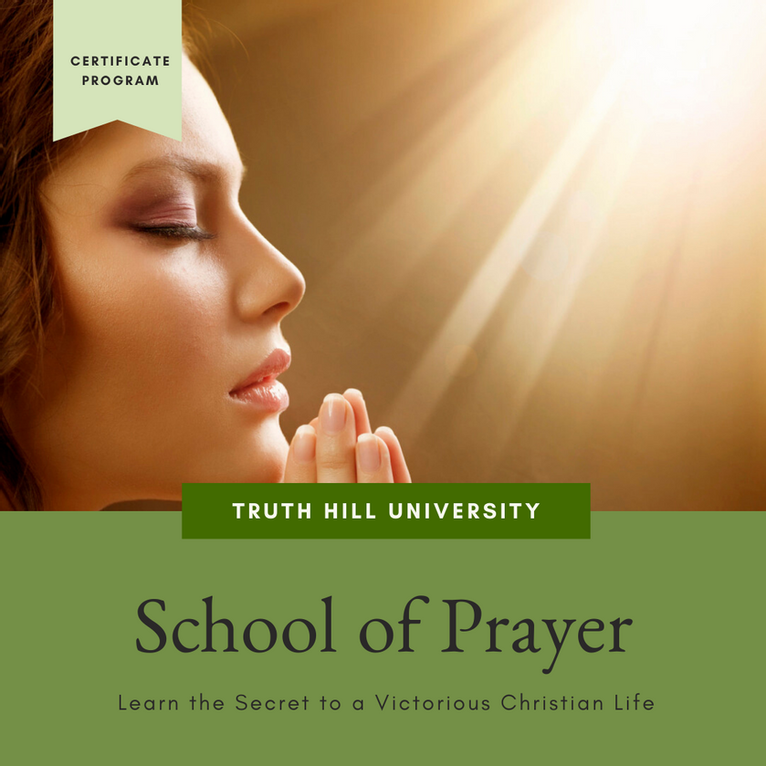 The School of Prayer offers courses that teaches participants the basics of prayer and spiritual warfare. Prayer is the foundation for a victorious life here on earth. The school is perfect for individuals who desire to learn how to be effective in personal prayer or spiritual warfare.
(This program is only open to students who have gone through the preliminary and foundational certificate programs of the Truthhill University).
At the end of the School of Prayer, you will:
1. Learn how to pray effectively
2. Learn how to build intimacy with God in prayer
3. Understand the hindrances to answered prayer and how to overcome them
4. Understand the fundamental principles for spiritual warfare
5. Learn how to build a consistent prayer life
6. Learn how to live victoriously
Course Outline
The School of the prayer is a three-part course curriculum, comprising of two training modules, each with seven courses. The third is the student's project course work.
Module One: Basics of Prayer
Courses:
• Understanding prayer
• Laws of prayer
• Types of prayer
• Benefits of Prayer
• Intimate versus demand prayers
• Challenge of prayer
• Prophetic Prayer
Module Two: Functional Prayer
Courses:
• Spiritual Warfare
• Hindrances to Prayer
• Dealing with Strong Holds
• Putting the whole armor of God
• Effective prayer
• Corporate Prayer
• Model of Prayer
Who Should Register?
1. Anyone seeking to build a vibrant and consistent prayer life
2. Anyone who seeks to see the will of God done in their lives, family and nation
3. Anyone who wants to put a stop to the activities of the enemy
4. Anyone who wants to live a victorious Christian life
5. Anyone who wants to fulfil God's plan for their lives
How to Register?
1. Enroll for the program and pay the course registration fee
2. You will receive a confirmation of payment, as well as your log in details
3. Get ready for class